Payment & Shipping Terms
Supply Capacity
Unit Price:
18.0 USD
Production Capacity:
2 000 000pcs/year
Trade Term:
FOB,CFR,CIF,EXW
Packing:
Color box / pc
Payment Terms:
L/C, WU, Cash, T/T
Delivery Date:
15-20 days after got...
MOQ:
700 Piece/Pieces
Means of Transport:
Land, Ocean, Air
battery sprayer pump india
battery sprayer
16L Knapsack Battery Sprayers
A. Standard Configuration:
16L Agricultural/Garden/Knapsack Sprayer

Model

CF-16C-BD

Logo

Pandora

N/W

6.2kgs

Payment

30%TT, L/C

G/W

7.0kgs

Mini order

720pcs

Hose

1.4Meter

Delivering time

15-20 days

Capacity

16Liter

Original place

Taizhou, China

Pressure

0.2-0.5Mpa

Operational side

Left / right

Size

37*20*55.5cm

Power type

Electricity

Lance

CF-70B stainless

Outer packing

1/pc color box

Switch

CF-02A

Inner packing

Poly bag packing

Battery

12V8AH/20HR

Departure port

Ningbo

Pump

12V3.1LDC

Supply capacity

2 000 000pcs/year

Charger

12V1.0A

Working time

4-5 hours

Material

PP tank+PP base

Loading QTY

20ft: 680pcs

Nozzle

Three nozzles free

HQ: 1660pcs

Certification: ISO9001, CE(Conformite Europeenne),SONCAP,PC,CCC(China Compulsory Certification)
B. Service Hotline:

C. Battery Sprayer Anatomy: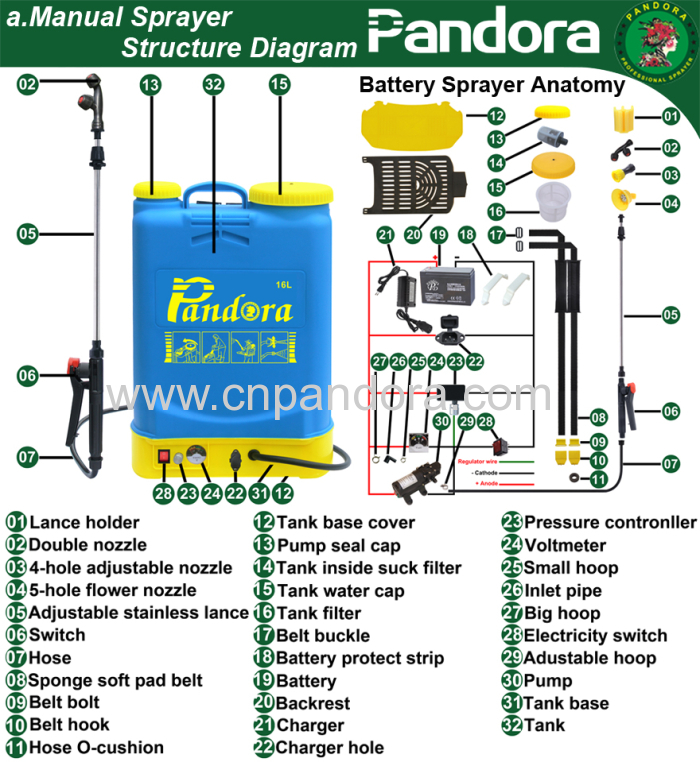 D. Product Configuration Introduction: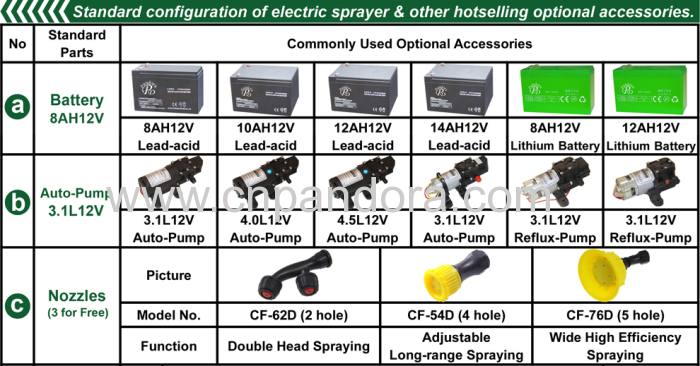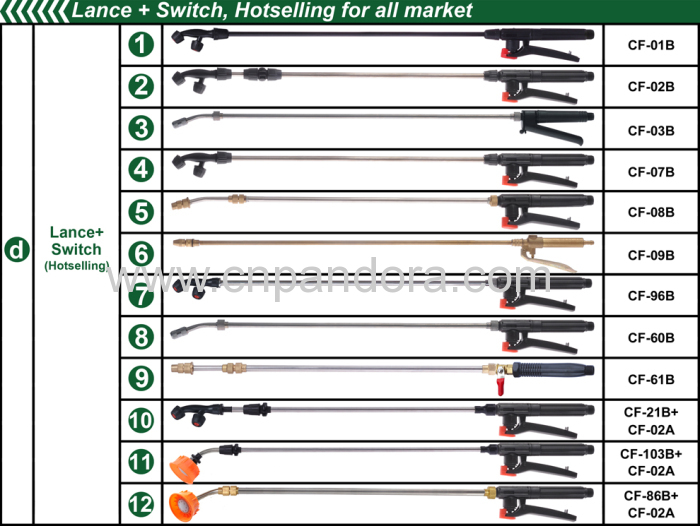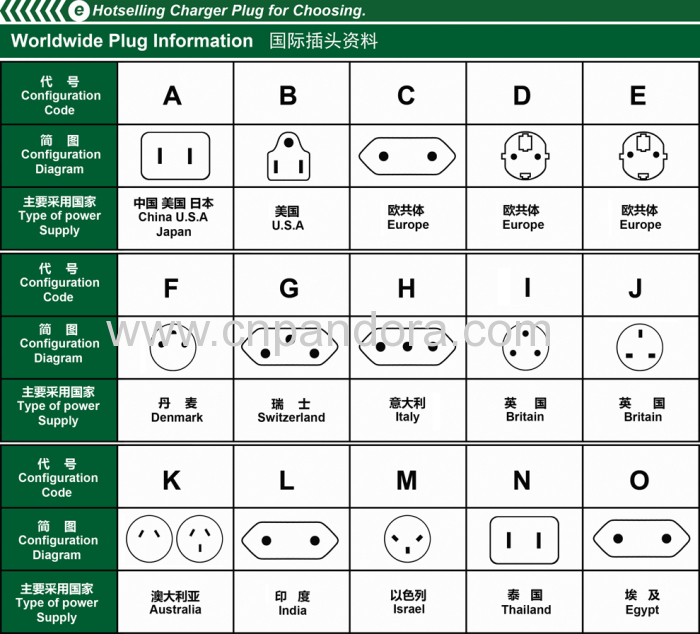 E. Production Process: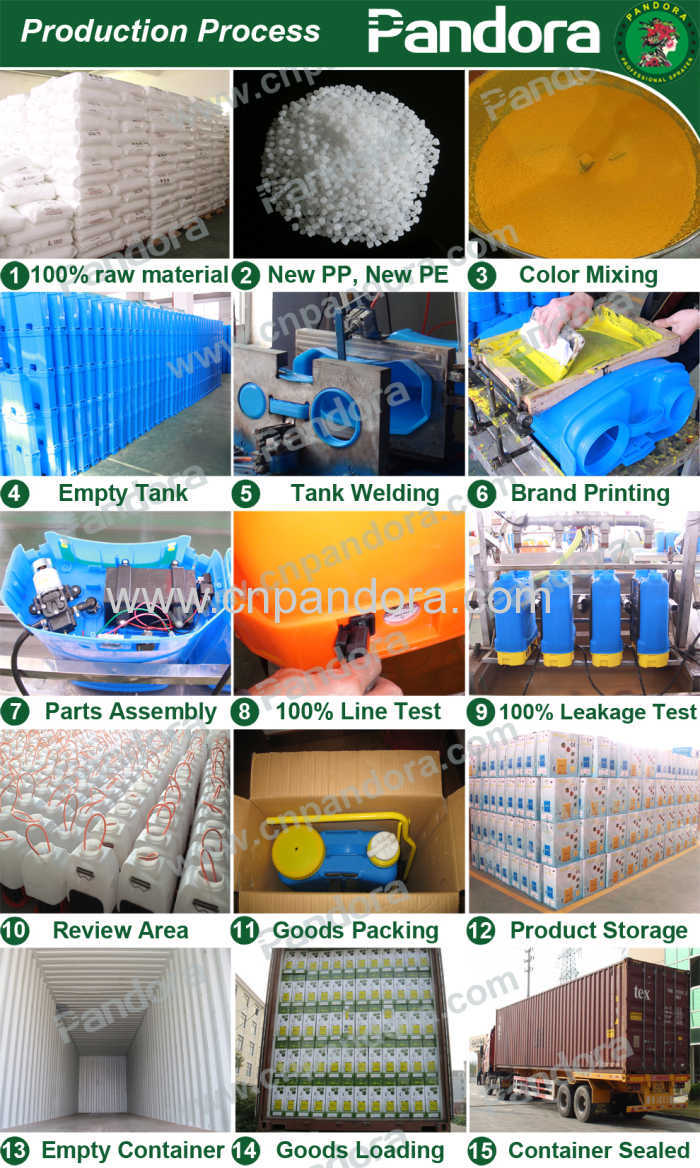 F. Use Safety Instructions For Sprayer:
1.Battery must be charged 12 hours before first use!
2.The battery needs to be recharged When sprayer is low power consumption, the flow gradually become lower.
3.Don't mistake the power plug when changing or inspecting the battery, connect red wire to anode (+), black wire to cathode (-).
4.Allow only people who can fully understand this manual to operate the sprayer.
5.Carefully read and follow all safety precautions in Owner's Manual. Improper use can cause serious injury to user and bystanders!
6.To obtain best performance, life and satisfaction from your sprayer, it's very important that you read and understand the safety
precautions and maintenance instructions before using your sprayer.
7.Don't use unsolvable powder with your sprayer. Make sure to fully clean the sprayer and pump if you use unsolvable powder and latex,
otherwise it will properly cause the problems such as no suction/pressure/flow and so on.
8.When finished spraying, turn the power off, add some clean water to the tank. Turn the sprayer on, squeeze the hand lever to clean
any debris from the tank, pump, hose and strainer,make sure the pump, hose and strainer are fully cleaned,then store your sprayer
in a shade place.
9.Store the sprayer in a shade place where children cannot reach.When putting the sprayer in a cold environment,you must discharge
all the liquids in the tank to protect the sprayer.
10. when store sprayer, in order to prolong the service life of battery, fully charge every 2-3 month without using.
11.Transportation: When transporting your sprayer,be sure that the power is off. Always put the sprayer in right position, protect the
hose from sharp objects and never transport your sprayer with harmful chemicals in the tank.
G. Company Introduction: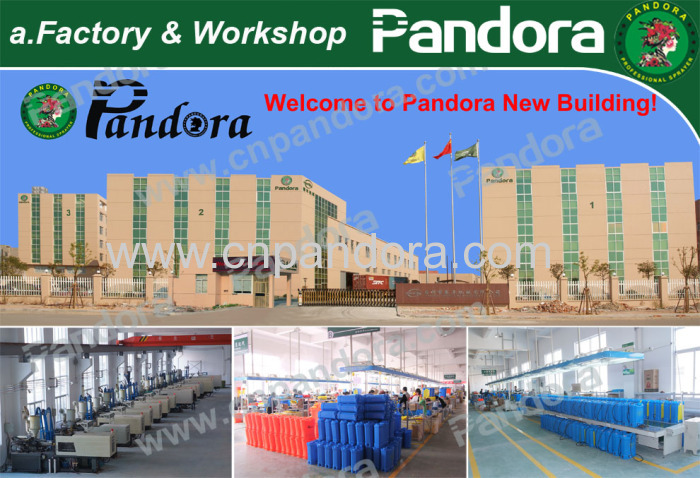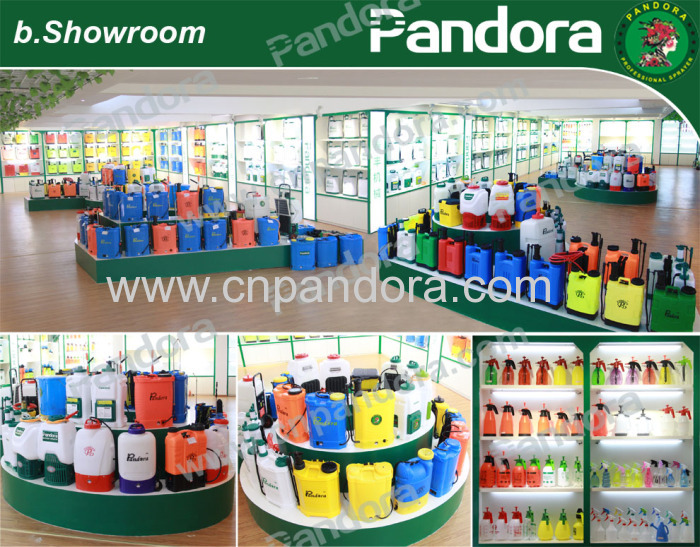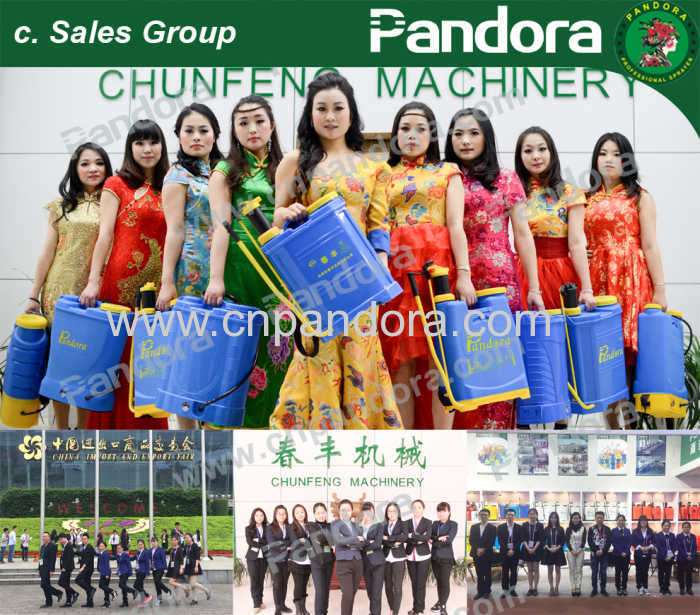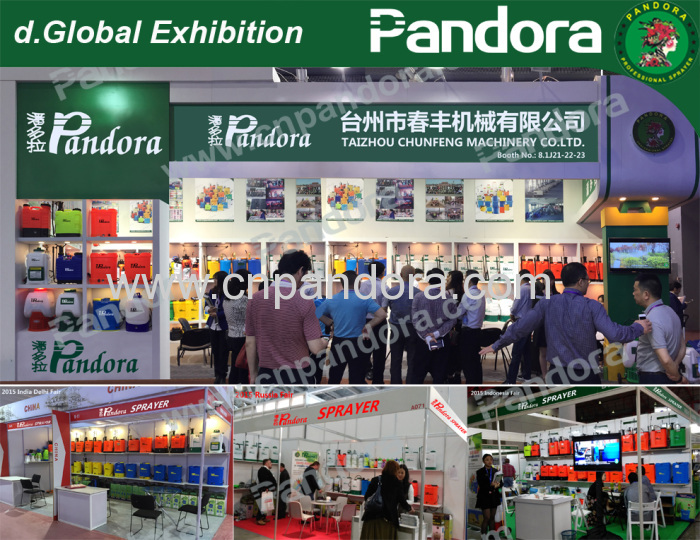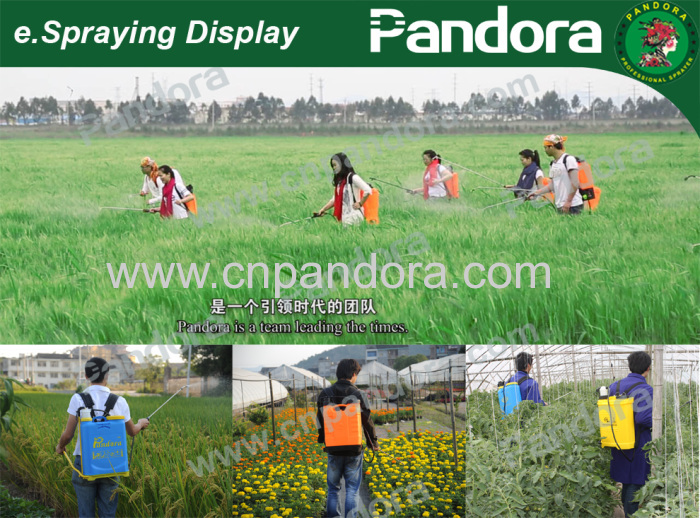 battery operated fertilizer sprayer
Related Products
12L Knapsack Agriculture Sprayers
16L Hotselling Agriculture Sprayers
Agriculture Irrigation Drip Tap With Emitter Inside
Two In One Battery & Manual Sprayer